Min Yen Chien
<![if !vml]>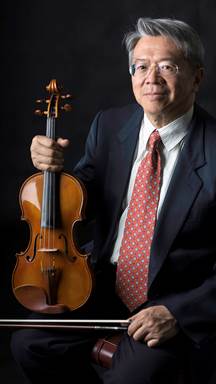 <![endif]>Min Yen Chien is one of the foremost and belongs to the first generation of Taiwanese international violinists. Born on August 2, 1953 into a medical and musical family in Nantou, Taiwan, Mr. Chien started his violin lessons at age seven. By the age of eight he had won the first prize of the National Violin Competition for children in Taiwan. At that competition he was heard by the late Raphael Hillyer, who at that time was violist of The Juilliard String Quartet and was visiting and touring Taiwan in 1961. Since that time Mr. Chien became a protégé of Hillyer. At age ten he was the first prize winner of the First National Violin Competition sponsored by the Rotary Club of Taiwan.
With the encouragement and sponsorship of Hillyer, Min Yen Chien came to the United States in 1967. During that summer he won first prize for the Violin Concerto Competition at the National Music Camp in Interlochen, Michigan, and performed the Mendelssohn Violin Concerto with its orchestra receiving a standing ovation. From 1967-68 he studied at the North Carolina School of the Arts with Marc Gottlieb and Ruggiero Ricci. Under the recommendation of Ricci, Mr. Chien entered the Pre-College Division of the Juilliard School in 1968 as a full scholarship student under the direction of Ivan Galamian and Sally Thomas. He also studied chamber music with Robert Mann, Felix Galimir, William Lincer, Lillian Fuchs and the Juilliard String Quartet. In the summer of 1977 he studied chamber music with Ma Si-Hon and Josef Gingold at the Blossom Music Festival in Kent, Ohio. With a scholarship funded by the Rotary Club of New Jersey, he received his Bachelor's (1975) and Master's (1976) Degrees in Music from Juilliard. He had further studies with Albert Markov at the Mannes College, private lessons in Taiwan with Kek-Jiang Lim, a student of Georges Enesco who is the former Music Director and Conductor of the Hong Kong Philharmonic and traveled to Japan from 2010-14 to learn with the Emminent Frenchman, Gerard Poulet.
Since Min Yen Chien has always had a great interest in medicine and science, he was accepted as a medical student at The College of Medicine at the University of Arkansas in Little Rock. He studied medicine from 1982-86. Recently Min Yen Chien has been exploring the relationship between the violin and the muscular-skeletal system and is committed to studying injury prevention of muscle overuse or misuse. He also just completed a book on "An Investigative Analysis of Fingering and Thumb Positions for Paganini's 24 Caprices, Op. 1."
In Auguest of 1986 Mr. Chien was invited by the late Taiwanese composer Shui-Long Ma to teach at the National Institute of the Arts, renamed in 2001 as the Taipei National University of the Arts (TNUA). He regularly performs on solo and chamber music concert at TNUA and the National Concert Hall in Taipei; he was twice invited to play for the Presidential Concert. Min Yen Chien has trained many young and talented violin students helping the secure success in their future careers. Many of his former students hold important positions such as concertmasters, members of professional orchestras or teaching posts.
In 1991 Mr. Chien made his Alice Tully Hall debut in New York City with pianist Wendy Fang Chen to a sold-out capacity. In February of 1994 he was invited by the "Society for Human Engineering Factors" of Taiwan as a guest lecturer on "The Violinist's Shoulder" for their annual International Conference on Ergonomics & Health. In May 2016 Mr. Chien will return to Alice Tully Hall to give a world premiere of a violin concerto composed by Justine F. Chen performed with the New York-based Youth Orchestra, CYCNY.