Douglaston Concerts midway through its 10th season
By Rich Bockmann
<![if !vml]>

<![endif]>Enlarge this image
<![if !vml]>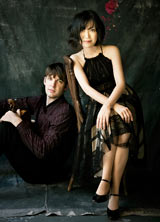 <![endif]>
Violinist Jesse Mills (l.) and pianist Rieko Aizawa of Duo Prism are scheduled to perform at the Community Church of Douglaston Feb. 5. Photo courtesy Duo Prism
Devotees of chamber music and the Super Bowl will not have to choose between the two this year since the Douglaston Concerts will present its First Sundays Series concert an hour earlier than normal on Super Bowl Sunday.
The pianist and violinist ensemble known as Duo Prism will perform at 3 p.m. Feb. 5 at the Community Church of Douglaston, at 39-50 Douglaston Pkwy.
Pianist Rieko Aizawa and violinist Jesse Mills are both graduates of the Julliard School and in 2006 won first prize at the Gaetano Zinetti International Chamber Music Competition in Italy.
"Duo Prism will perform one of Beethoven's violin sonatas named after the guy it was written for, Rodolphe Kreutzer," said Gerald Anders, who has been the Douglaston Concerts' artistic director for the past 10 years. "It's probably one of the most important pieces of chamber music."
The annual concert series, which presents five performances each year from October to May, was in danger of being discontinued before the season due to poor subscription revenues.
"Like everything else we suffered from the economy. The number of committed subscriptions had shrunk, and without our subscriber base and that minimal income we dare not contract performers," Anders said. "These [performers] are all professionals and they're all paid. They don't get rich, but they are paid."
Anders said Douglaston Concerts is the only chamber music venue in northeast Queens, and though it does receive performance space from the church gratis, the nonprofit does have a certain amount of costs associated with maintaining its piano and publicity.
"Rather than run the risk of disappearing, we brought on new board members with the mandate to drum up new subscribers to keep us afloat, and we did just that," he said.
The series is constantly presenting some of the most recognized musicians in the world, Anders said, such as Trio Cavatina, winner of the 2009 Naumburg Chamber Music Competition, who performed last year before going on to Carnegie Hall.
"One of the reasons the series is really loved is that people can come and for a third of what they'd pay at the Lincoln Center chamber society, they can see exactly the same people," he said.
Douglaston Concerts will present pianist Benjamin Hochman March 4 and organist Scott Montgomery later this year to close out the 2011-12 season.
A full five-concert subscription costs $100 for adults, $85 for seniors and $25 for students. Tickets for individual concerts can be purchased for $25, $20 and $5, respectively. For more information, call 718-229-2169 or visit douglastonconcerts.org.