方秀蓉Patsy Fang Chen 175 Willoughby Street #2A Brooklyn, NY, NY 11201
Tel. 718-834-8904, 917-912-8288 Fax 718-246-0161 or 718-834-8904
E-mail: patsychen@aol.com www. Patsychen.com
YOUTH ORCHESTRA, CYCNY will present its Christmas Concert on Saturday, December 21st 2002 at 8PM in the Auditorium of Marie Curie Middle School 158, located at 46-35 Oceania Street, Bayside in Queens. This concert is open to the public with admission free and no ticket required. This project is made possible with funds from the Decentralization Program, a regrant program of the New York State Council on the Arts, administered by Queens Council on the Arts. Dr. Jeffrey Liang, the Music Director of YOUTH ORCHESTRA, CYCNY will conduct this concert, the featured soloists are violinist Justine Fang Chen and horn player Judy Yin-Chi Lee. The program will include:
Johann Strauss Sr./Radetsky March;
Antonio Vivaldi/Winter from The Four Seasons
Justine Fang Chen, Violin Soloist
Peter Tchaikovsky/Selections from Swan Lake
John Williams/Highlights from Harry Potter
Andrew L. Webber/Music of the Night from The Phantom of the Opera
Judy Yin-Chi Lee, Horn Soloist
Chou-Lin Chen/Springtime Hills
Hsi-An Lai/Moonlight Lute
Taiwanese Traditional/Grasshopper and Rooster
Leroy Anderson/Christmas Festival
<![if !vml]>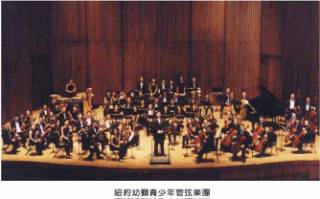 <![endif]>YOUTH ORCHESTRA, CYCNY, a Queens-based youth orchestra which was founded in 1995 and registered as a nonprofit organization in New York State in 1996. Since 1997 it has been under the Beacon Program of New York City. On every Saturday during the school year, the orchestra meets from 1-4PM regularly at Marie Curie Middle School 158 in Bayside, Queens. The age ranging of the members is from 11 to 21. They are the young, promising and enthusiastic music students, who love music as well as working as a team. Each member, at least, plays one musical instrument quite skillfully in order to pass the highly competitive audition. The orchestra had concretized in Queens, New York City, San Francisco, Los Angeles, San Diego and Honolulu. It had completed 3 concert tours to Taiwan in 1997, 1999 and 2002.
<![if !vml]>

<![endif]>Conductor and trombonist Dr. Jeffrey Liang was appointed as the new Music Director of Youth Orchestra CYCNY in September 2002. As the conductor of the orchestra since 1999, Mr. Liang has led the orchestra in many concerts throughout the United States and Taiwan. Born in Taipei, Taiwan, Jeffrey Liang began his study of trombone at age sixteen. In 1994 he continued his instruction in the United States, first with Mr. Hal Janks then under the tutelage of Dr. Per Brevig at Manhattan School of Music. After receiving his bachelorís degree from Manhattan School of Music, he was awarded Charles H. Ditson Scholarship to Yale University School of Music to study trombone with Prof. John Swallow and conducting with Prof. Shinik Hahm. In May 2000, Mr. Liang received his master degree from Yale and was awarded a full scholarship to State University of New York at Stony Brook. Studied with Prof. Michael Powell, Mr. Liang also served as teaching assistant with Prof. Bruce Engel at the Stony Brook Wind Ensemble. In May 2002, Mr. Liang received his doctor of musical arts degree and became the first Taiwanese trombone doctor.
As an active soloist, Mr. Liang has been featured with ensembles such as the Stony Brook Graduate Orchestra, Stony Brook Wind Ensemble, Shock Concert Band, and Taiwan National Yan-Min University Wind Ensemble. The highlight of Mr. Liangís solo appearance was performing De Mejiís "T-Bone Concerto" in its Taiwan premiere with the Hua-Lien United Wind Symphony this summer. As a dedicated chamber musician, Mr. Liang founded the Metropolitan Brass Quintet in 2000 and made their Weill Recital Hall debut on April 13, 2002. As an international artist, Mr. Liang has appeared on the stages of Lincoln Center, Carnegie Hall, Kennedy Center, Dallas Meyerson Hall, Merkin Concert Hall, Staller Center for the Arts, Singapore Victoria Hall, Seoul Arts Center in South Korea, as well as the National Concert Hall of Taiwan. Mr. Liang is currently the Principal Conductor of Shock Concert Band, Director of St. Joseph Ė St. Thomas School Band, and the Assistant Director of the Christ the King High School Wind Ensemble. He is also an annual guest of Taiwan Hua-Lien Wind Camp where he gives master classes during the summer.
<![if !vml]>

<![endif]>Violinist and Composer Justine Fang Chen was born in Brooklyn, New York of Taiwanese descent; she began piano, violin and composition studies at an early age. After finishing her Bachelor and Master of Music degrees at The Juilliard School as a Violin and Composition major, she received the Peter Menin Prize and the William Schuman Prize for Outstanding Achievement in Leadership in Music. She is currently pursuing a Doctor of Musical Arts degree at the Juilliard as a C.V. Starr fellow, studying composition with Robert Beaser. As a violinist, she has appeared internationally as a soloist with major orchestra. In recent seasons, Ms. Chen has made recital appearances in New York, Shanghai, Osaka and Taipei. She has participated in numerous festivals including the National Orchestral Institute, the Craftsbury Chamber Players, Summer Garden Festival, and Juilliardís FOCUS! Festival. As an orchestral musician, she has performed under such distinguished conductors as Kurt Masur, Otto-Werner Mueller, Marin Alsop, Andre Previn, Pierre Boulez, Hugh Wolff, Carl St. Clair, Gerard Schwarz, and Booby McFerrin. As a composer, Ms. Chen has been the recipient of many prestigious awards and commissions, and has had her compositions performed throughout the United States, South America, and Asia. As a composer, violinist and trained ballet dancer, her keen interest in multimedia collaborations has led to work with directors, choreographers, filmmakers, visual artists, and interactive computer media. The New York Times praised her music as a "Öpropulsive, emotionally resonant score that choreographers tend to dream of." Future projects include a commission from Concertante, the New York- based virtuoso string ensemble, and a computer-enhanced chamber opera scheduled for performance in December 2003 at the Juilliard School.
<![if !vml]>

<![endif]>Judy Yin-Chi Lee, horn player, was born in 1976 and studied both horn and piano as a child. She received her bachelorís degree from Eastman School of Music and her Performerís Diploma and masterís degree from the Indiana University. A full fellowship to Rutgers University, where she is pursuing her Doctor of Musical Arts degree, brought her to the east coast and she is currently a member of the Metropolitan Brass Quintet. As a performer, Ms. Lee has soloed and toured around the world, including Singapore, Japan, Main Land China, South Korea, and Taiwan, appearing on national television in the latter country. Here in the U.S., she has performed in concerts at Carnegie Hall, the Kennedy Center, Lincoln Center, Weill Recital Hall, Avery Fisher Hall, and has traveled with the national tour of the Disney Broadway production "Beauty and the Beast." While at Indiana University she was a member of the Apex Brass Quintet, which was award First Prize at the University of Georgia Brass Chamber Music Competition. As a freelance musician, Ms. Lee has worked with the New Jersey Pops, Trenton Symphony Orchestra, Spirit in Motion Ballet Theater, Paper Mill Theater, Indianapolis Symphony Orchestra, the Indianapolis Chamber Orchestra, the Indianapolis Chamber Brass Choir, the Fort Wayne Philharmonic, the Evansville Philharmonic Orchestra, and the Richmond (IN) Symphony Orchestra.
######